Are you watching American Crime Story's The Assassination of Gianni Versace on FX?
Okay, this thing is, like, nonstop advertising in nine 76-minute parts. Holy shit! I clocked a gratuitous product pitch for branded consumables — cars, clothes, jewelry, food, drugs, booze, duct tape, tchotchkes — every 37 seconds. It makes Sex and the City look subtle. I was so exhausted by the end of Episode 2, I couldn't watch any more. I hope everything turned out okay.
Also, does it bother anyone else that three quarters of the main characters (Gianni, Donatella, Antonio), all Italians, are played by a Venezuelan, a Spaniard, and a Puerto Rican (respectively Edgar Ramírez, Penélope Cruz, and Ricky Martin)? I mean, they're great performances as these things go, but really? No actual Italians were available? Or even Maya Rudolph? They were able to find plenty of Italians to play Puerto Ricans in West Side Story. What the AF?
And seriously, the psychology of this thing is so whack, no wonder Versace's family is pissed off. Serial killer Andy Cunanan is portrayed (by Darren Criss, exquisitely) as a shallow, ingenuous, flaky, lying, penniless, druggie, murdery, wife-beater-shirtey psycho gigolo, which he maybe was. But Versace — savvy enough to build a giant luxury fashion empire, handsome and rich enough to have any man he wanted — he found that irresistible? Computer says no. (Maureen Orth, author of the source book for the show, says they met once, briefly, in a San Francisco club in 1990. Antonio D'Amico claims Versace and Cunanan never met at all. Well, except the one time.)
Also, every time the action slows down, the show cuts to an insert of Cunanan running up to Versace's bordello — oops, I mean villa — with a gun. Every time. Relevant or not. C'mon. That's all's they got?
Plus one more thing: This allegedly classy Miami Beach villa (in fact, the one where Versace actually lived and arguably the biggest product plug of all, after the shmatahs) is a Disneyesque McMansion snuggled between two fleabag hotels and Lummus Park, the site of countless perp tackles on Miami Vice. Quel trashy!
It reminds me of the 16th century travesty built by Henry VIII, Nonsuch Palace,  a rich boor's interpretation of Florentine Renaissance architecture. It was offloaded by Henry's heirs in a fire sale to the first sucker who came along, and eventually dismantled and sold for parts.
Fun Facts!
● In 2013 Villa Versace was sold at a bankruptcy auction for $41.5 million, after failing to sell on FSBO.com or wherever for the original asking price of $125 million.
● The second-highest bidder was Donald Trump. If you think it's bad now, imagine what might have been.
● According to Vanity Fair, the garish interiors I just complained about aren't in the actual villa but are "meticulous re-creations" on a Los Angeles soundstage. Gack!
● The villa's a hotel today. Yelp reviewers say the restaurant's staff is rude and the food rivals the decor in tastelessness. Pretty much tells you everything you need to know.
Anyway, ACS is framing Versace as a world-class arbiter of taste who was attracted to mindless users and lived in this tacky crapfest. Give me a break.
I watched this show because 2016's Emmy-winning The People V. O.J. Simpson by the same folks was da bomb. I wanted desperately to love this one, too. You know what? I'm genuinely sorry about what happened to Versace; his stuff was okay enough, certainly not deserving of getting his head blown off. But that being said, I always considered him the poor man's Armani. And if that needs an explanation, then The Assassination of Gianni Versace is perfect.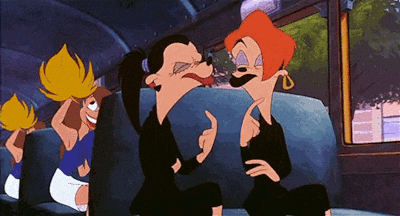 Copyright © 2018 SYDNEY SCHUSTER — All rights reserved
I make no money from this blog. If you find it interesting or useful, please buy my book Dead Spot. The Kindle version's only $5 and you'll love it! (Also available in paperback.) Thanks.

Sydney Schuster and Dead Spot neither approved nor endorse any advertising that may appear below, nor do we derive any income from it. Feel free to ignore it.